So we've told you before about Google reviews – that they're now pretty much essential for all businesses who have a Google My Business account (ie, most businesses with a website), as they provide credibility, local SEO and all-important ranking. But how do you go about getting them? With some companies going down the murky road of buying reviews, we've put together this handy guide to getting them for real – because when it comes to paid reviews, authenticity really is priceless.
Most business owners either have their own haunting one-star review story or know someone who does. That long-forgotten customer who left you less-than-flattering feedback that your rankings don't seem to have recovered from (possibly because you don't have a review strategy in place – if so, read on). Or that suspicious one-star write-up that you've always felt might be a competitor in disguise – sadly, it really does happen. Whatever the reason, a bad review can cause serious damage to your ability to attract new customers – and that's where we come in.
Whether or not you think your industry is the right 'fit' for Google reviews, we can guarantee your potential customers will see them when they Google your business. So, to drown out a bad review and have your business benefit from a plethora of glowing ones instead, you need to put a strategy in place.
We know it's not always easy to ask customers for reviews. It takes courage to reach out and ask for honest feedback – especially because everyone's so busy that you may not want to 'bother' your customers. It also takes up your own valuable time, and you may worry you're opening up a can of worms, if the client's thoughts on your work are a bit of an unknown quantity. That's why more and more people are turning to buying Google reviews, ie reviews posted under a random name who's obviously not a customer – something we firmly advise against, for a myriad of reasons.
First up, it's illegal. Pretty hard to get round that one. Second up, any customer with half a clue will be able to tell it's not a legitimate review – bringing your business credibility into major question. Finally, you're cheating yourself and your business out of the chance to learn from real feedback – and know good reviews were a result of your own hard work.
Even if you feel your area of business doesn't lend itself to easily getting glowing reviews (and we admit it's much easier to get a happy customer to leave a review after they've just finished a delicious meal at your restaurant than once you've completed a lengthy IT installation that wasn't finished on time due to unforeseen circumstances), you still need to think of review strategy as a job that has to be done – so plan for the best way to do it.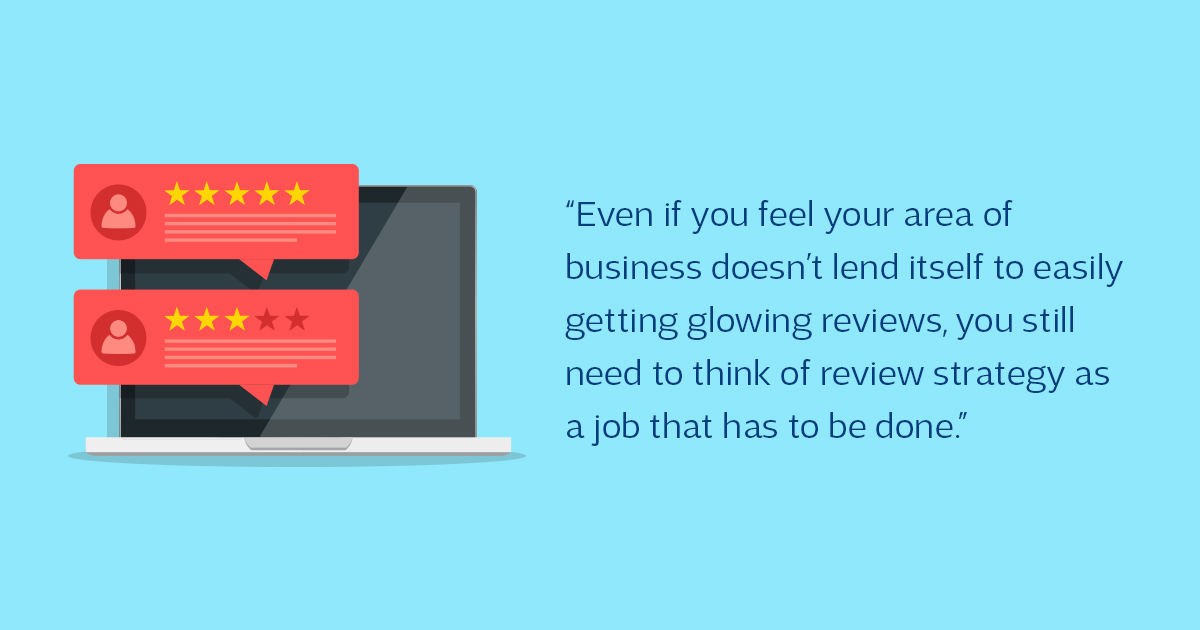 Start with figuring out the best time to ask for a review in your customer communications. Whether it's adding a call-to action-button to your digital signature (so you're seeking reviews every time you send an email) or sending a request with a gift at the end of your dealings, figure out what you're most comfortable with and go for gold. Don't forget, not everyone knows what a Google review is or how to give one, so you might want to include simple instructions that remove any barrier standing in the way of it actually happening.
Finally, it's important to remember that consistency is key and – when it comes to Google reviews – it's a marathon not a sprint. Google prefers you to get one review a week for a year than 52 in a day, so go slow and steady, friends – we'll see you at the finish line.