Podcasts are now BIG business with huge, hyper-engaged audiences. Who would have thought this humble audio medium would be on track to eclipse social scrolling and even binge-streaming? Well, that's what's happening and here's how you can get on board. 
Remind me – what is a podcast again?
For those who haven't had the pleasure, a podcast is a downloadable digital audio file that people can listen to at their leisure on their phone, tablet, laptop or other device. Podcasts are typically available as series with new episodes uploaded periodically. What generally happens is that people try a few, subscribe to their favourites, get to know the hosts and before long they're hanging out for the next instalment to land each week.
It doesn't seem like that long ago to us that podcasts were a new thing, but today there are more than 750,000 active podcasts available for streaming and download. Born in 2004, podcasts didn't really come of age until 2016/17 when the hosts of cult podcasts like Serial, Teacher's Pet, This American Life and The Joe Rogan Experience became celebrities in their own right.
Cut to November 2019 and pretty much everyone you talk to has their top 10 podcasts saved for listening to in the car, on a run, while cleaning the house and even when chilling out on the weekend.
The stats say it all
In the US, a mind-blowing 144 million people listen to podcasts. That's half the US population! While our stats aren't quite so high in Australia, they're certainly not low at 1.6 million. Australian podcast audiences have increased by 70% since 2015, with that number set to keep rising in the foreseeable future.
Demographic-wise, 67% of listeners are aged between 18 and 44. If this is your target audience, this is a medium worth paying attention to.
What's driving growth?
The thing about podcasts is that their trajectory has closely followed that of do-it-all smartphones with increased data and listening capabilities. Now that people can listen on the go, they are. In droves! Roy Morgan stats from early 2019 say that over 1.3 million Australians now download podcasts to their mobiles in an average four-week period. In 2015, this was only true of 421,000 people. Only a 215% increase!
Podcasting for marketers
Everyone in our studio has a list of unmissable pods (check out our personal recommendations at the end of the article), and the democratic nature of the medium means that anyone can be a podcaster. Podcasting is incredibly niche, with series devoted to every subject imaginable – from pop culture, parenting and true crime, to gardening, marketing and 90s TV shows. 
From a business point of view, we're passionate about podcasting because it can enhance your marketing strategy if implemented with a bit of thought and without fear. It's a different way to connect with audiences at a time when they're less frenetic and not so bombarded by competing demands for their attention.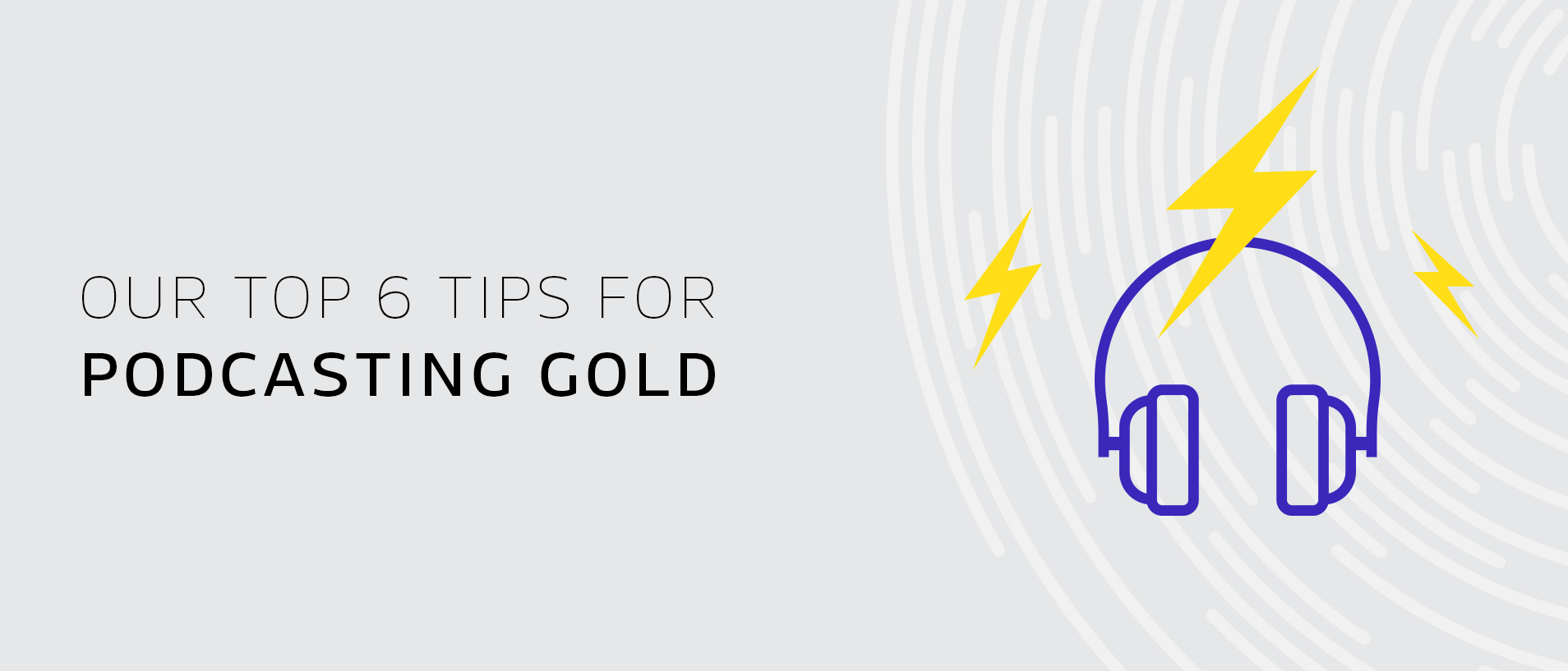 Just listen
If you've never listened to a podcast before, it's time to back up and just listen. Get some recommendations about topics you're interested in and start subscribing. Have a look at the top-rating shows on the Apple or Android podcast apps and drill down on the categories and genres that appeal to you.
Prioritise quality production
This may seem like a no-brainer, but audio quality matters enormously and there are a lot of podcasts out there with shocking sound quality. There's no point having amazing content if no one can hear you properly. Get your equipment and audio quality sorted before you hit record. Invest in a decent microphone and pay attention to your editing.
Decide on format and structure
How often will you release new episodes? Weekly is a good place to start, but there's no rule book that says it can't be more or less frequently. What day of the week will you upload? Whatever you decide, consistency is the key to building an audience. Decide how long your episodes will be. There are podcasts that run long, which some people love for in-depth conversations and analysis. Others prefer a 30-50 minute show they can align with their workout or commute.  
Forget the sell
If you're considering podcasting purely to sell more products or promote your services, it's not going to work. The only way to go about podcasting is to genuinely entertain and inform your listener. Whether that's through sharing your personal experiences, interviewing people with an interesting story to tell or discussing hot topics, what needs to come across is your passion and enthusiasm.
Brand your podcast
First you'll need a catchy name that gives some indication of what your podcast is about. Unless you're a super-famous celebrity, we personally believe that clear, unambiguous names work best – maybe with one or two keywords relating to your chosen topic. Then it's time to think about a logo – the icon that pops up as the face of your podcast. Even though most of the time it will appear smaller than a postage stamp, this needs to be well designed and attention grabbing. The right blend of image, font, colour palette and design elements is crucial. If you need help branding your podcast, Sketch Corp. can develop your visual identity in line with what you want to achieve.
Go for it and grow your audience
It's important not to overthink podcasting. Just record, edit, broadcast and promote consistently. Keep in mind that building an audience takes time. Fully expect to hear nothing except crickets for a while. Podcast fans are always searching for new shows to listen to, so tell everyone you know about yours. Create a Facebook page and Instagram feed where you can grow your community and promote new episodes. Cross-promote via email and on your business socials. Whatever you do, don't give up and don't be shy about telling listeners to rate and review your podcast.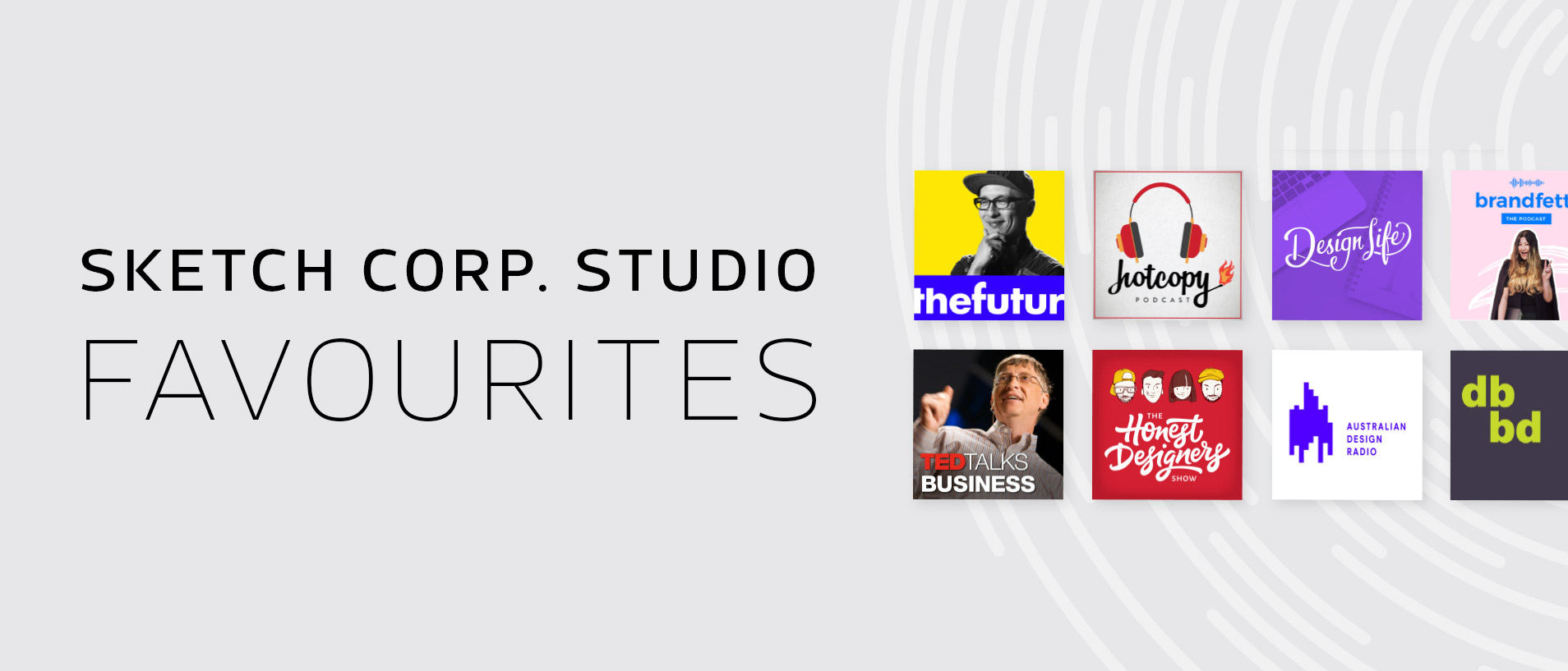 Podcasts on business, branding, design, marketing and copywriting
TED Talks Business
The Honest Designers Show
Australian Design Radio
Design Life
The Futur Podcast
The Design of Business | The Business of Design
Hot Copy
Brandfetti
Podcasts just for fun
Conan O'Brien Needs a Friend
WTF with Marc Maron
This American Life
Revisionist History
Science Vs
The Happiness Lab
Freakonomics
Radiolab
Chat 10 Looks 3 with Leigh Sales and Annabel Crabb
Mamamia Out Loud
The High Low
The Goop Podcast
– Sketch Corp.