Over the past few years, social media influencers have crept into social marketing strategies the world over. The social media influencer movement is big business, and we're often asked: 'Are they worth it?' and 'Do I dare go down that road?' We're here to tell you that yes, it can work. It works exceptionally well for certain products and services (a little too well, if you ask some business owners who sold out of everything within minutes of an influencer's Instagram post or story).
In this article, we give it to you straight about what a social media influencer is and whether they should form part of your marketing strategy. We also tell you how to go about selecting an influencer that's right for your business – if at all.
Breaking down the role of the social media influencer
Basically, a social media influencer is a social media user who has established credibility in a specific industry. They have access to a large audience of highly engaged followers and can influence behaviour and purchasing decisions due to their reach and perceived authenticity.
In many cases, a social media influencer's audience respects them, looks up to them and wants to be just like them. People put their faith in what the influencer says and does and, in a business sense, what helps them become successful, what products work for them, how they live their best life and so on.
Now you might be a sceptic and say, 'No way that would never happen!' But it has. Big time. Social media influencers make and break businesses every day. Here are three examples of influencers making BIG bucks and wielding tremendous influence.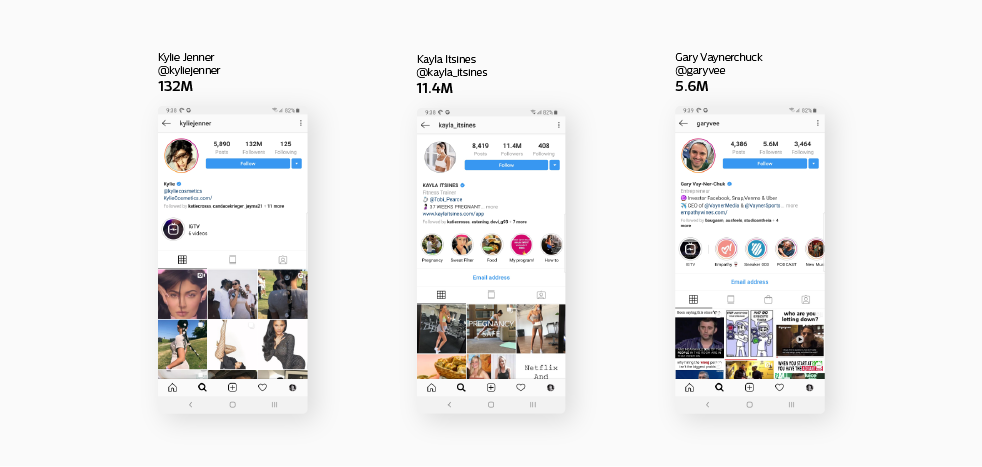 Kylie Jenner (@kyliejenner)
We're not Kardashian people here at the studio, but there's no denying the enormous success of the youngest Kardashian sibling, Kylie Jenner. Considered Instagram's most valuable influencer, just one sponsored post from Kylie is worth over a million dollars in 'ad equivalent value'. It's no wonder Kylie became the youngest billionaire ever (at age 21) earlier this year – a fortune amassed from her company, Kylie Cosmetics, which is marketed almost entirely on social media.
Kayla Itsines (@kayla_itsines)
Softly spoken Adelaide-born personal trainer, author and entrepreneur Kayla Itsines is the ultimate fitness social media influencer with a following of 11.4 million and a net worth of around $486 million – largely thanks to her Bikini Body Guides ebooks, clever use of hashtags and the meal-planning and workout app Sweat With Kayla.
Gary Vaynerchuk (@garyvee)
Our studio loves what Gary V has to say about pretty much anything – especially when it comes to social marketing strategy. With a comparatively humble Instagram following of 5.4 million, Gary has built up super-engaged social media audiences across Facebook and LinkedIn. The social media technology advocate also hosts his his own podcasts and vlogs. An early investor in Facebook, Snapchat, Venmo and Uber, Gary's forcefully delivered, no-bullshit opinions have captivated the world. He often uses his thriving socials as 'proof' that content crushes in material for his company, VaynerMedia.
There are PLENTY more where these three came from, but they are prime examples of three wildly diverse characters killing it as social media influencers.
It's indeed a lucrative business and a very attractive career path for young people finishing school and weighing up their options. To younger millennials, the perception is that social media influencers have it all and live the high life 24/7 at the hottest restaurants and nightclubs. They appear to have the best clothes, bodies, cars, friends, you name it. It's easy to assume they're having more fun than anybody. You can understand why taking a crack as a social media influencer is a more appealing option than starting in the mail room of a top tier company with 10+ years of grind ahead of you (if you even make it to the top). Us older millennials know it's not that simple and the easy street of a social media influencer has to be too good to be true. Ironically, Gary Vee's messaging teaches that you learn your best lessons during the grind phase of life.
Finding success as a social media influencer is actually much harder now than it used to be. These days you need a clear strategy on how your social account is going to wield influence. Influencing successfully requires a long-term, consistent commitment to content.
So what part can social media influencers play in your social marketing strategy?
Although there is more to it than this, we'll put it crudely: you either pay them or do a contra deal (#gifted) to promote your business to their beloved followers.
There are many ways to go about this. One is cold hard cash – pure and simple. You propose an offer: 'I'll pay you $$ to post about my product x number of times using my handle and hashtag.' Some influencers are also willing to receive free products/services/experience in exchange for posts, stories or a write-up. 'Come and enjoy a free dinner at my venue. If you could please post a photo of yourself there and use these hashtags, that would be great too.'
Sounds easy enough, right? Well, it is and it isn't. The problem is there are a gazillion social media influencers to choose from. How on earth do you find the right one for your brand? Some clever people have kindly stepped in and solved this dilemma. Cue a slew of new marketing platforms and dedicated social media influencing companies – firms established with the sole purpose of helping brands, businesses and marketers connect with social media influencers who are the right 'fit' for them. Check out some of these examples to get the gist.
AspireIQ (https://www.aspireiq.com)
A self-service platform with access to over 150,000 influencers across major social media platforms. This makes it a good fit for agencies or brands that create their own marketing campaigns in-house.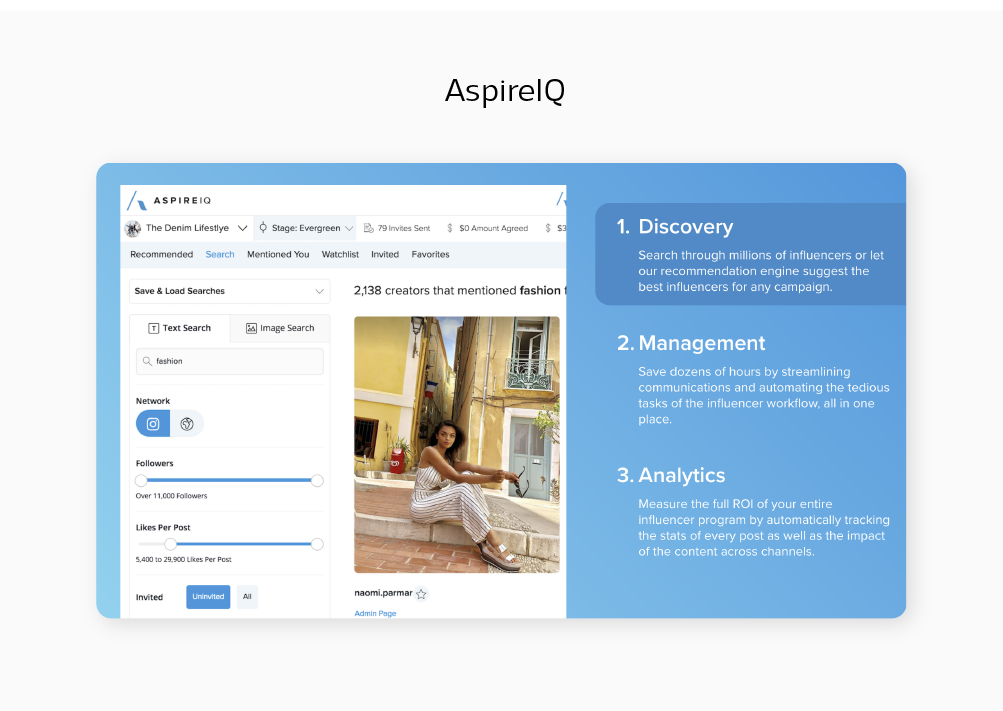 Mavrck (https://www.mavrck.co)
The Mavrck influencer marketing platform provides end-to-end relationship management, workflow automation and measurement for integrated influencer, advocacy, referral and loyalty marketing programs.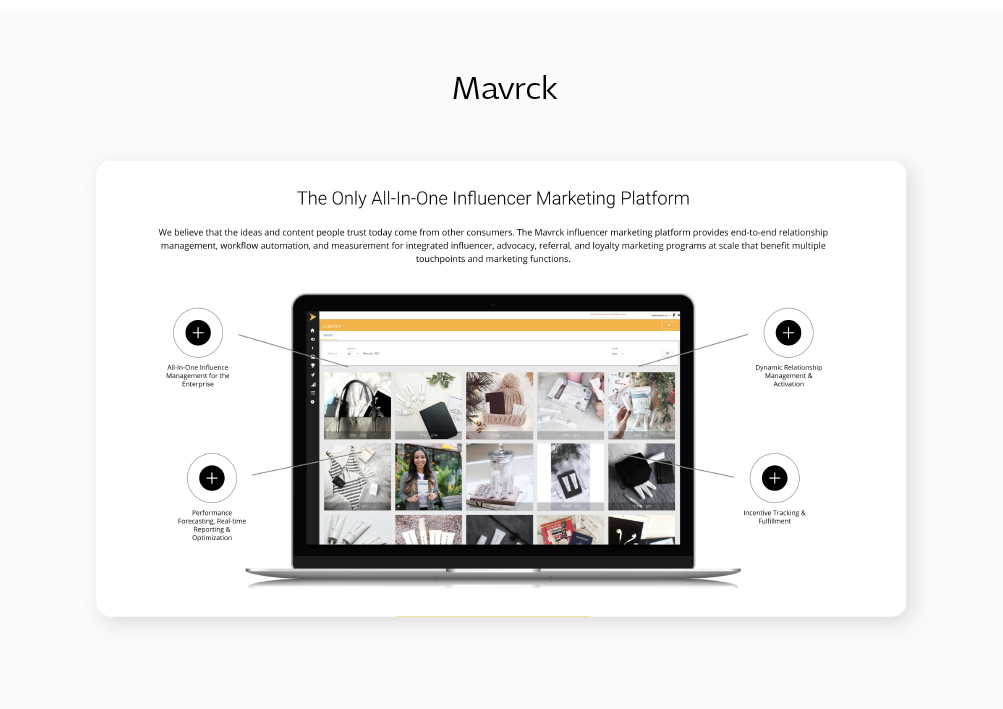 Lefty (https://lefty.io)
A content creation platform that helps brands and agencies identify relevant influencers and collaborate with them at scale.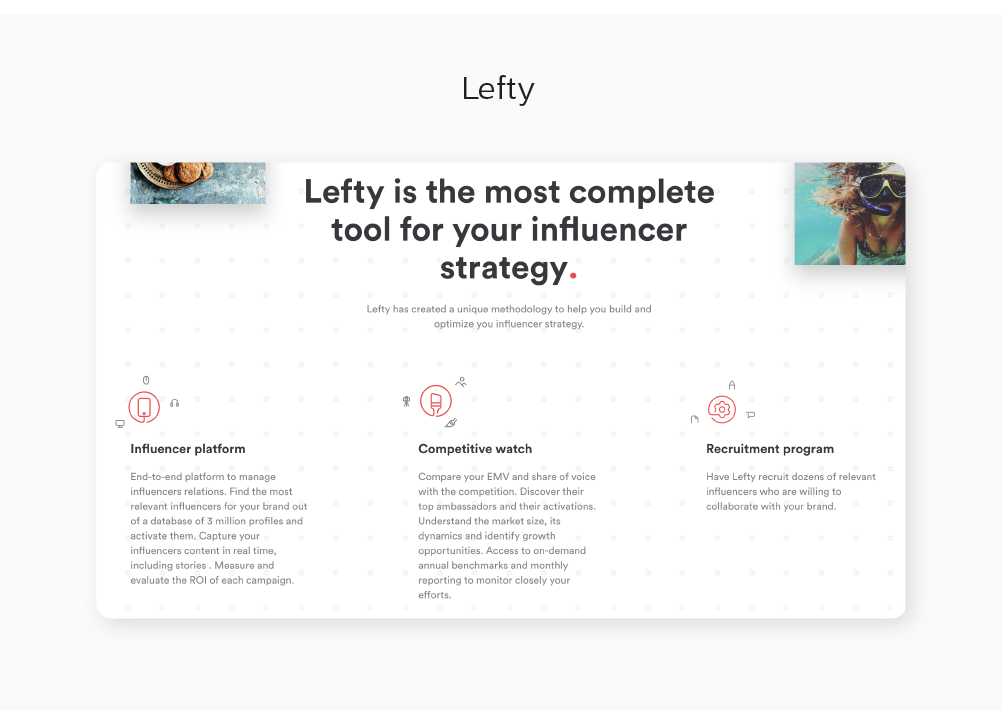 Essentially these platforms connect your business with appropriate social media influencers using formulas. Many take it a step further and do the hard work for you in terms of negotiating pricing, requirements and all the Ts&Cs.
If this approach isn't right for your social marketing strategy, you can also approach social media marketing agencies (yep, these are growing in numbers too). These agencies have their own black books of social media influencer contacts and preferences. Taking a more personal approach, they tap into platforms and handle all the complexities.
So the option is there, but is using social media influencers even a good idea?
Having read the above, you're probably thinking it's time that you at least looked into how social media influencer marketing could help your business. We should note at this point that it's not right for every business. Some products and services are definitely more social media-friendly than others. Make-up and skincare = amazing fit. Fitness stuff = couldn't be better. Plumbing and carpentry = hmmm, it has to be extremely well executed.
It also goes without saying that when you align your brand with an influencer, you've made a commitment. You're effectively saying that this person's values and attitude reflect yours.
The following industries are all extremely well suited to a social marketing strategy: fashion, accessories, baby products, pet products, tech, supplements, anything organic, luxury brands, travel, hospitality, motor vehicles and gaming. Social media influencing as part of your social marketing strategy is practically mandatory if any of the above describes what you do.
Other industries, for various reasons, just don't seem to lend themselves to the influencer sphere (a la law, engineering). That could all change overnight of course! Socials still have a place for these businesses, but it must be approached differently.
Determining if a social media influencer is right for your business will come down to key metrics such as reach and engagement, as well as authenticity, values and personality. They all need to match up if you are to foster a positive working relationship with a social media influencer.
Need help with your social marketing strategy? Call our studio.