An essential element of the branding process is about building brand reputation. Naturally, you want your brand's reputation to be impeccable and above reproach.
You may engage an agency and undergo a thorough branding process where you're equipped with a comprehensive brand personality, positioning, language and visual identity – all critical components of a healthy brand. If your brand's development and evolution ends there, however, you won't end up with a strong brand that gains momentum over time.
Choosing to do nothing in terms of your social media, customer communications and stakeholder engagement (or engaging in activity only sporadically) either because you don't know how or don't have time will damage your brand and stunt its growth.
Taking consistent action, on the other hand, will have the effect of bolstering your brand reputation little by little.
Where to begin
Active branding doesn't have to be a hugely expensive endeavour. What it does require is an unwavering understanding of your brand's core purpose and how you solve problems. From then on, it's about the consistent action. 
All too often businesses focus on 'what' they do and believe that's what branding is. It isn't. Branding is about how you do what you do and why you're doing it. The 'what' comes after.
If your brand is currently focusing on the 'what', you're coming up against the 'what' of your competitors every day. Chances are, 'what' you all offer is largely the same. There's no separating you. Why would customers choose you over them? You're not giving them a compelling reason when it's service/product vs. service/product (like for like).
Where your brand steps in is with the story behind the what. Why are you doing what you do? Money? Passion? To improve on what's out there? To change a behaviour? To offer more competitive pricing?
To build a brand that really connects with people, you need to be honest about this. Give your audience something they can engage with.
Get comfortable with the fact that your brand won't please everyone all the time. It can't be about that. When you aim for catch-all mass appeal, you run the risk of becoming bland. It's far better to be authentic and honest with your audience.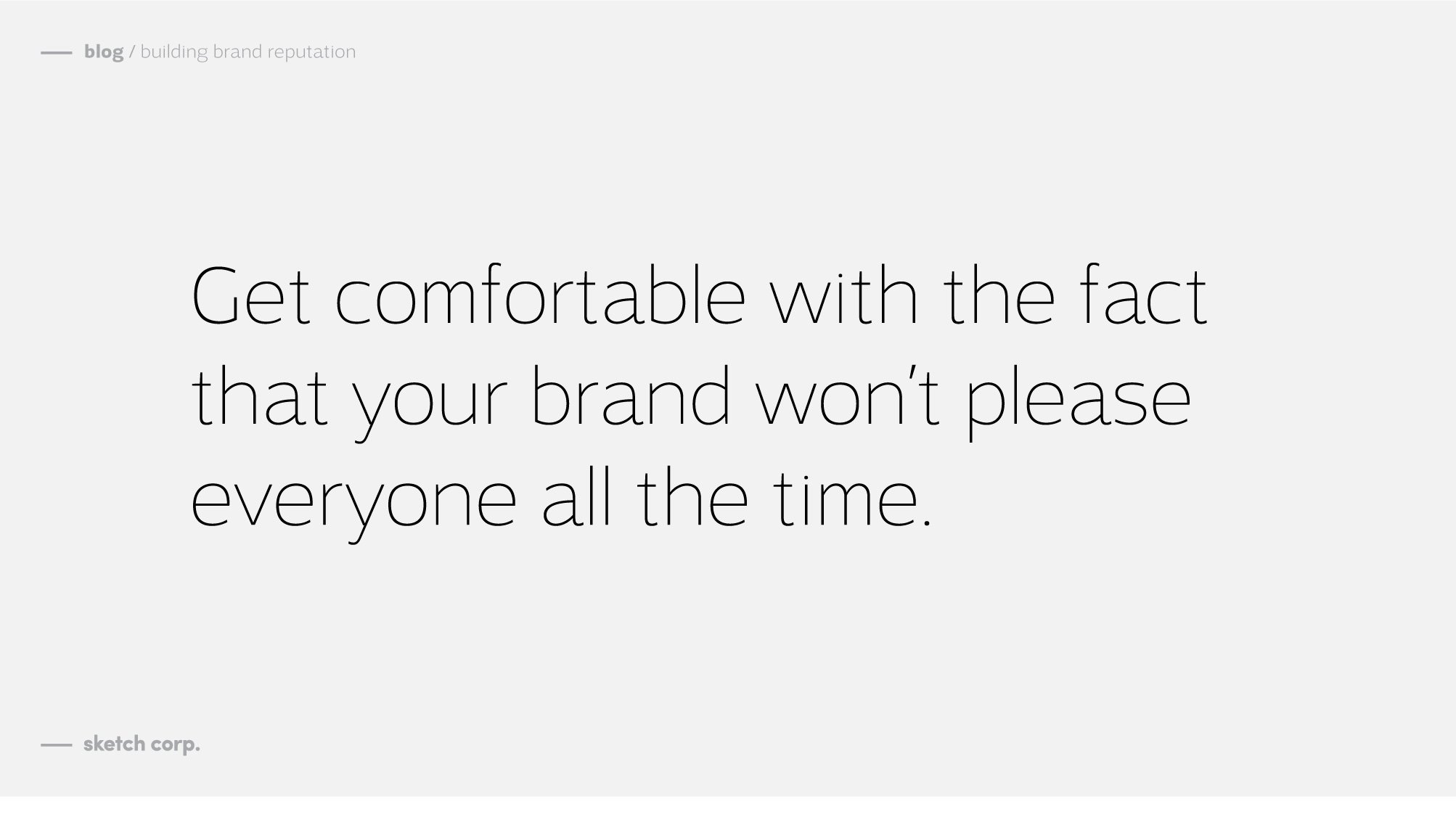 What comes next
Once you're clear on who you are and why you do what you, you must commit to consistency in your actions. Building brand reputation requires maintaining a regular presence on the social media channels that matter to your target audience. Whether you do it daily, weekly or monthly, the important thing is that you do it.
Communicating directly with your customers and prospects via the considered use of email, SMS or mail is also important. Keep them up to date about important updates or special offers while at the same time reinforcing who you are and why you do what you do.
Depending on what type of business you have, establishing and strengthening your brand may also require engaging with your stakeholders by hosting special events or attending select functions and conferences to demonstrate the authority and presence of your brand.
As we often advise our clients and associates, branding is not a one-off. Building your brand reputation never ends and requires commitment.
– Sketch Corp.