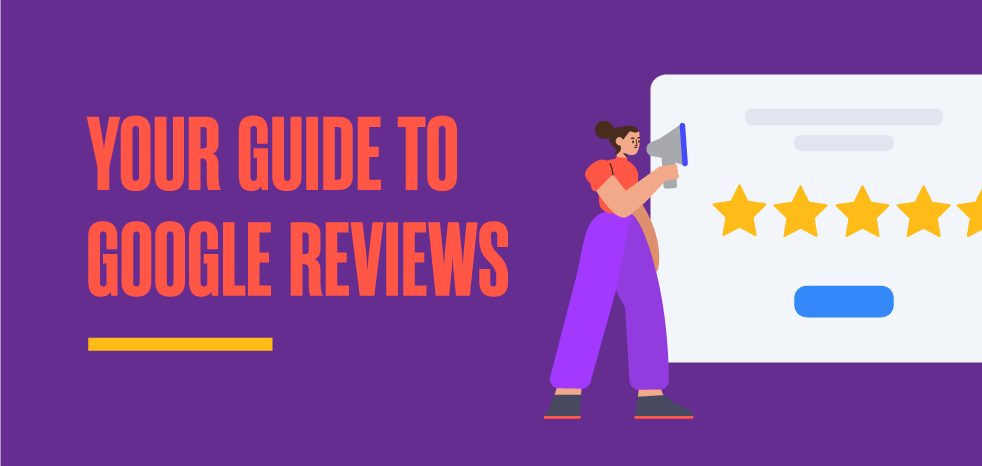 17
Feb, 2020
Whether or not we're aware of it, most of us are regularly influenced by Google Reviews. Not just the domain of local cafes and restaurants, those five little stars that appear under a Google My Business listing can have *major* sway when it comes to credibility, SEO and ranking across any business industry, and can be the difference between a customer choosing you over a competitor. With many businesses only paying Google Reviews panicked attention when they get their first, one-star (eek!) rating, we're urging you to be pro-active when it comes to nabbing those stars.
Google reviews give you street cred
From surgeons and lawyers to accountants and recruitments firms, a whole host of people, businesses and organisations are at the mercy of Google Reviews. With consumers now relying on a quick Google search to see what your customers have said about you, check your credibility and ultimately decide where to take their business, every company needs to be aware of, and working on, their Google Reviews.
Because the process is transparent and fairly trustworthy (Google can smell a fake review a mile off), Google Reviews are viewed as an accurate and honest representation of your company – a fact that massively influences buyer behaviour and can genuinely make or break a business.
Google reviews for local SEO and ranking
As well as boosting (or seriously hindering) your perceived credibility, Google Reviews really matter when it comes to local SEO and ranking. It may come as no surprise to learn that Google loves Google, duh, so the search engine naturally rewards your business for getting on-board with the tools it provides. In fact, in terms of local SEO, the quantity and quality of reviews you have on Google is one of the most important ranking factors.
As well as getting you ranked in the first place, your stars will also be one of the first things customers will see when searching Google for a local provider. They're so influential, in fact, that they appear right under your business name. Here's an example:
Obviously if this shows a review of only one or two stars, it's not hugely inviting for potential customers and may not encourage much click-through.
Now in classic Google style, there's a secret science to the quality, quantity and frequency of Google Reviews you need for it to have a hugely positive impact on your SEO.  However, despite the secrecy, we can pass on a few handy tips. You need a minimum of two reviews for your star rating to show up (although we recommend a minimum of 10 – set your business the benchmark of gaining a certain amount per month), and Google Reviews aren't as effective if you get them all at once – clever old Google knows that gaining 20 reviews in one day probably isn't legit.

Handy feedback, bad reviews and when Google Reviews go rogue…
Google Reviews aren't just there to help customers – they're also a handy way for you to get valuable feedback on what your customers actually think. Unfortunately, that works both ways – if you've listed your business with Google, you've opened up the ability for people to leave negative reviews. If you don't have a strategy for encouraging reviews from all your clients, you could find your one-and-only 'client gone wrong' could leave the kind of less-than-glowing review that sees you losing customers.
When they receive a negative comment, most businesses first question is 'How do I get it removed?" Unfortunately, you can't – another good reason for having a strategy in place that encourages reviews from all your clients. If you're worried about competitors jumping on and leaving fake or unwarranted Google Reviews, don't be – Google doesn't allow it and, if you feel one's slipped through the net, you can submit a removal request to Google. The issue of authenticity and accountability around Google Reviews is one that's developing very rapidly, and there's increasing online noise demanding Google provide more transparency when it comes to the people behind the reviews. If you're tempted to write a fake Google review, don't – it could land you in very hot water, with an Adelaide lawyer recently receiving a $750,000 defamation payout after a woman left him a false, and highly negative, review. 
How to implement a strategy
Happily, Google Reviews don't cost a cent – in fact, the only cost to you is a little time in building your strategy. With that in mind, here are some handy tips for making Google Reviews work for you.
Remove the barriers
Everyone's busy, and simply asking your client to go and leave a review probably isn't going to result in it actually happening. Instead, literally send them a link and tell them exactly what to click – emphasising how easy and simple the whole process is.
Integrate it into your process
Make 'Asking the client to leave a Google Review' a formal part of your business processes – that way it becomes a must-do action whenever you complete a project or client interaction.
Depending on the nature of your business, it may also be appropriate to include calls to action on your website, in your digital signature and in your email marketing. Whatever the relevant touchpoints with your clients are, make sure you're utilising them.
Be grateful
Google Reviews are valuable for your business, and it's important you show your appreciation to clients that take the time to leave them. Respond to them, thank them –  maybe even send them a gift. They just gave you the gift of increased credibility, better visibly and more customers – and some may say that's the best business gift of all.