It's tipped as one of the marketing hacks to watch in 2020 with digital marketers and SEO specialists vying to get their businesses and clients featured 'on-SERP'. Now don't be alarmed if you're unsure what this means or why it's important because we've got the lowdown on what you need to know.
Wait a minute – what on Earth is on-SERP?!
Yes, the jargon can be confusing when marketing isn't your bread and butter!
We can now find the answer to any query by typing a few keywords into a search engine. The battle to have a top spot on the first page for your search is a competitive one, especially now with organic search results being pushed further down the paid, preceded by paid Ads and what's known as on-SERP.
On-SERP is what Google chooses to display to try to answer your query with tailored, intuitive and succinct information. On-SERP, especially the featured snippet that appears at the top of the page (also known as 'position zero'), is incredibly valuable space. Think of it like a blazing billboard appearing in the middle of the road while you're driving! It's going to get noticed.
And if a user gets all the information they need from a featured snippet, then they don't need to click on any of the other results.
How you can use on-SERP to help your business get noticed
Look we're not going to pretend high performing on-SERP is easy, after all trying to work out Google's ever-changing search algorithms is a specialist field. But there are some ways you can best position your business for on-SERP results.
Make sure your website is optimised for Google Sitelinks
Sitelinks are subheadings that appear under a search result showing the key pages of your website. Here's an example showing the Google Sitelinks when you search for us here at Sketch Corp
Your website needs a very clear navigational structure to boost the chances of your sitelinks being displayed in a Google search. Strong internal links to core pages, such as 'Services', 'About' and 'Contact', will optimise your website for Google sitelinks.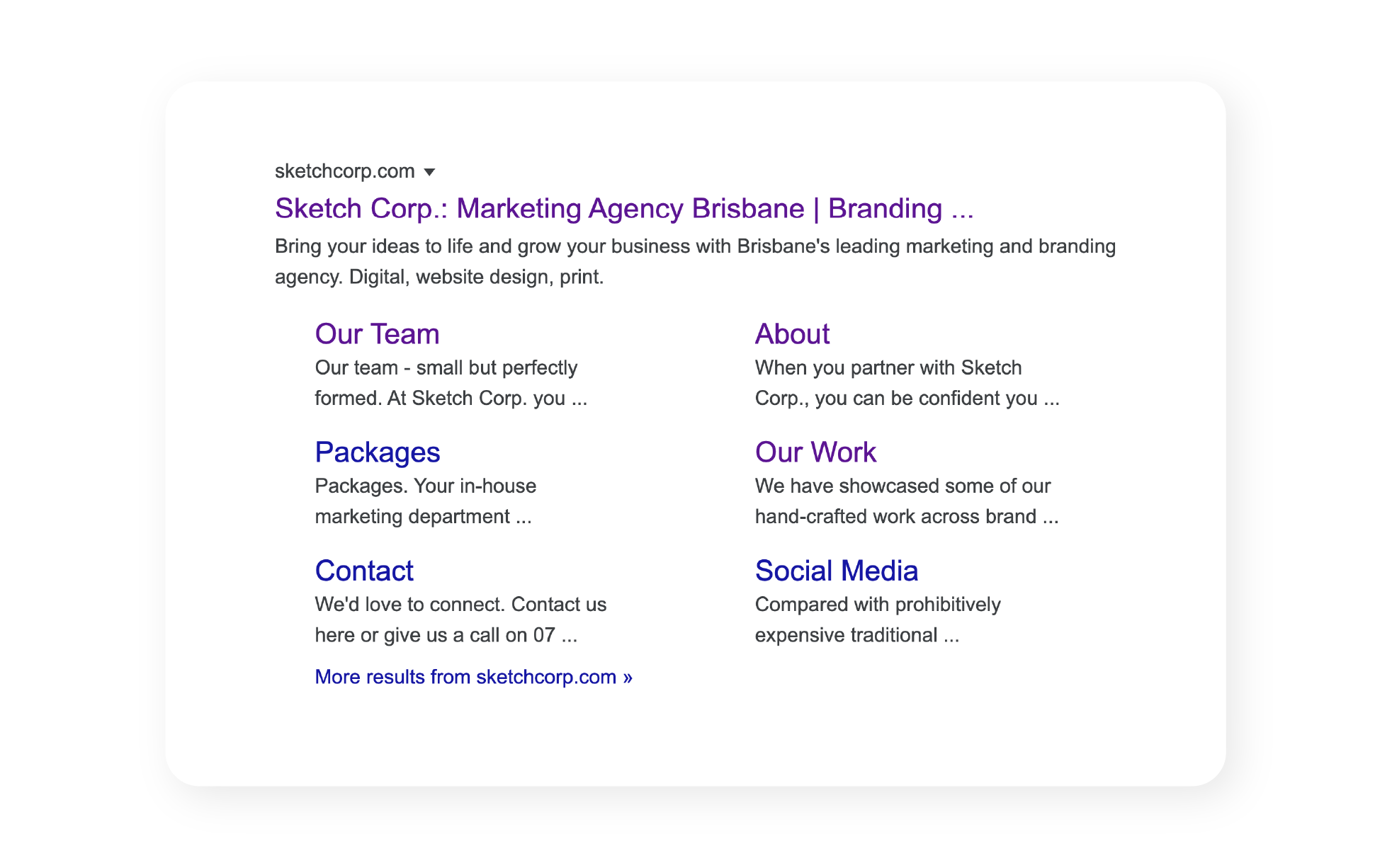 Make 'Google My Business' your business!
Google My Business is what appears when people Google you, displaying details like your map location, reviews, services, contact numbers and business hours. Keeping this information current, relevant and refreshed is a great way to attract traffic for local branded searches. And the best part is that Google My Business is free! At Sketch Corp, we wrote this blog about why this easy-to-use tool is a must.
Consider running a Branded Pay-Per-Click Ad campaign
If someone searches the internet for your brand name, then that should be a fantastic – not to mention super easy – opportunity to convert that search into a click to your website. They've already heard of you and now they're trying to find out more so don't lose that query to another business that also appears on the search results page. Running ads that showcase your brand name can be achieved through a basic Google Ads brand campaign. If you're not experienced using those tools then it's best to speak to a Google Ads specialist (we'd be happy to help!).
Video
Video marketing is a very powerful tool to boost your brand. Cisco forecasts internet video will grow to more than 82% of all consumer internet traffic by 2020. Google knows this and they'll show video snippets among the list of organic search results. Featured Video will also appear at the top of the SERP. If you haven't already, then it's time to consider video for your website and make sure you link it to video sharing services like YouTube and Vimeo.
Connect your Social Media Channels
Google's knowledge panels appear on a search results page to show a quick snapshot of information about your business in a box. You can link your social media channels to your website and verify them with Google so that they're automatically included in your knowledge box.
Use Twitter to help boost your on-SERP presence
On the first Search Engine Results Page, Google shows the most relevant branded tweets.  Actively tweeting relevant and engaging content and interacting with Twitter users will also help boost your presence on-SERP.
A picture is worth a thousand words (or clicks!)
Use images to boost your brand's presence on Search Engine Results Pages especially in 'position zero' or the Featured Snippet. More than 12% of SERPs will display images so it's an important hack. You should give images a descriptive title and also try to reduce the file size without sacrificing quality.
Want to boost your brand's presence on-SERP in 2020?
If you're keen to learn more about on-SERP and how to make your brand more visible in online searches, get in touch with us at Sketch Corp.