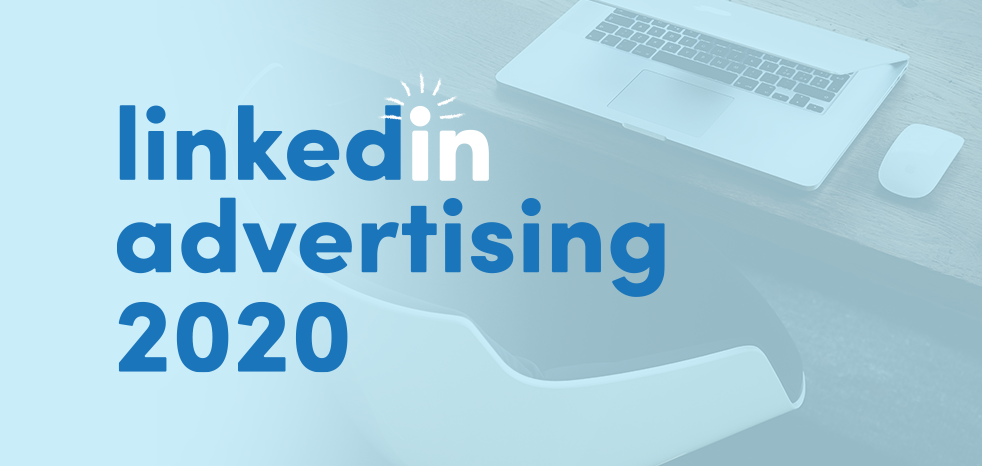 16
Jan, 2020
It's part of a powerhouse social network, its audience has twice the buying power of other social media channels and it's gaining momentum every single day. Impressive, we know – and these are just three of the reasons we're predicting LinkedIn advertising in 2020 could mean majorly big business for your company.
A hugely popular platform still in its growth phase, there's just something about LinkedIn. As an agency that specialises in working with B2B business, we received a huge number of LinkedIn-related enquiries from our clients last year – all of whom wanted to know how they can best utilise LinkedIn's remarkably effective lead generation with their own LinkedIn advertising in 2020. On the off-chance you're not familiar with the stats surrounding this ongoing ­­success story, they're pretty impressive:
So what do we think is so exciting about LinkedIn advertising in 2020? Well, it's where you'll find your people – it's used by more businesses and business owners than any comparable platform. This is because the way it's used is more aligned with the needs and mentality of its users – whilst networking is at its core, it's a different, less fluffy type of social interaction than that offered by other well-established platforms such as Twitter, Facebook and Instagram.
How to make the most of LinkedIn advertising in 2020 
If you decide to add LinkedIn to your marketing mix this year, you'll want to think carefully about your content and advertising strategies. With that in mind, here are some quick tips for producing great content that'll knock the socks off your competitors…
As with every time you hit 'post' on your socials, make sure your content is timely, relevant and compelling. Quality always trumps quantity – everything you publish should be a must-read for your audience.
If your business has a wider marketing strategy in place, make sure all your LinkedIn content aligns with this. Consistency is key – and this applies to the frequency, as well as the content, of your posts.
Ever heard the saying 'No one likes a show-off'? Well, that doesn't apply here – this is your chance to really show your expertise to the wider business world. Don't be afraid of using your post's 1300 character limit to its full potential – people have reported 10 x more visibility on their long-form articles than their short-and-snappy ones.
Get tag-happy – tag any people or audiences you reference, and make sure you use the hashtag function to its full potential. (Here's a great guide to using LinkedIn's unique hashtag system.)
In terms of advertising, LinkedIn spent 2019 investing serious time and money on ensuring its advertising platform, Campaign Manager, lets users achieve the kind of results that align with their company marketing objectives. What does that mean for you and your business? Well, your LinkedIn advertising in 2020 could take advantage of some of these super-straightforward, highly effective features.
LinkedIn's switch to objective-based advertising means you can run your campaigns around clearly-defined goals including brand awareness, lead generation and engagement.
When it comes to brand awareness, you can now boost the share-of-voice for your product or services through top-of-funnel campaigns that charge by impressions, e.g. cost per thousand (also known as CPM).
A simple conversion tracking tool means you can create campaigns that are optimised for actions on your website, including purchases, downloads and event registrations.
If you're a LinkedIn Talent Solutions customer trying to drive applications on LinkedIn or your own site, you can now create ads using Campaign Manager.
If you're not already across Linkedin advertising, another key advantage is the ability for advertisers to specify the industry, company size and job title of people they want to see their ads. This feature is hugely beneficial for a BD team with a detailed potential customer hitlist – basically, you can put your ad right in front of the people you most want to see it.
For smaller B2B companies with limited budgets, you'll have to think carefully about whether or not to invest in LinkedIn advertising in 2020. With LinkedIn clicks working out to be more costly than those on other platforms, you'll have to weigh the value of your conversion against what you spend on your ad. Generally speaking, LinkedIn advertising isn't a cost-effective option for those with a limited budget  –  $100 per month, for example, sadly won't cut it.
If, however, you are a B2B company considering utilising LinkedIn advertising in 2020 (and we highly recommend you do), it's important you get the right person or organisation to take charge of the implementation. When people find themselves declaring "It doesn't work!", it's usually because the strategy hasn't been rolled out properly – if there even was one to begin with. To avoid issues like ads being shown at the wrong time or with sub-par content, unrealistic and uninformed expectations or a team member gone rogue (think those mid roll-out, personal, non-aligned posts…), make sure you speak to an expert before you get started. And that's where we come in…