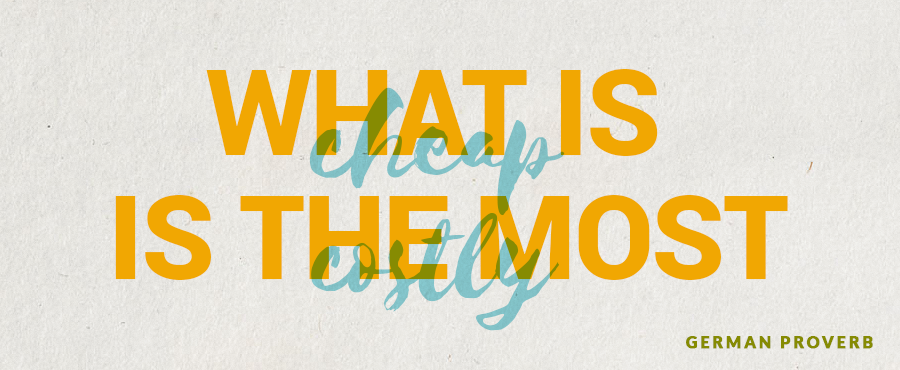 30
Mar, 2016
Every so often, we pitch for a new client and find out we've been unsuccessful in winning their business. Part and parcel of agency life. You win some, you lose some.
Then something interesting happens…
Many of the clients who've turned us down end up reconnecting. Usually they come back to us after they've tried to do their branding/website/design themselves – or they've gone with a cheaper provider and it hasn't worked out.
There's no win like a surprise win.
At first we thought this was a one-off, but now we've seen it happen numerous times. There's definitely a pattern there! While this is fabulous news for us because clearly we made a good impression and obviously we love taking on new clients, the sad thing is that they've ended up spending more by trying to go down the cheap route.
In the spirit of true worth vs. false economy, here are 4 things worth considering before you bypass a marketing agency and DIY – or engage someone who promises the world for $20.

according to the late billionaire James Goldsmith. Not always true, but true enough to be cliché.
What are you trying to achieve?
I know, I know… marketers always say that, but that's because it seriously matters. Desired outcome is everything. If your objective is to develop a brand that's a professional, up-to-date representation of your business and generates x number of leads each month, you need to ask yourself what that's worth. If it's worth a lot, then having an experienced team develop your brand is an investment.
What are your strengths?
Do you have a passion for marketing and design? Is it in any way related to your business offering and what you're good at? If so, great, but chances are it may not be your 'thing'. The next question to ask is, is your time better spent focusing on what you are good at? If the answer is yes, it might be best to outsource.
Does it sound too good to be true?


If you've had three quotes from marketing agencies and one is drastically cheaper than the others, find out why. It's unlikely that someone offering 10% of the market rate will create something worthy of your business, or deliver what the other suppliers have promised. 
What do you stand to lose if it doesn't work out?
Be honest with yourself. It's tempting to conclude that it's only time you've invested, but really it's more than that. It's opportunity. Time that could have been spent generating more money doing what you're good at. And that on top of paying the agency fees you balked at in the first place adds up. Not to mention all the time that your branding, website and digital presence spent out there not hitting the mark and not appealing to your target market. Again, more lost opportunity.
SMEs, one last thing: if you visit marketing agencies and their pricing is outside of your budget, why not tell them honestly what that budget is? You never know, you may be able to work something out.
Talk to us about bringing your marketing and design goals to life in a way that won't break the budget.
Call 07 3352 6657.