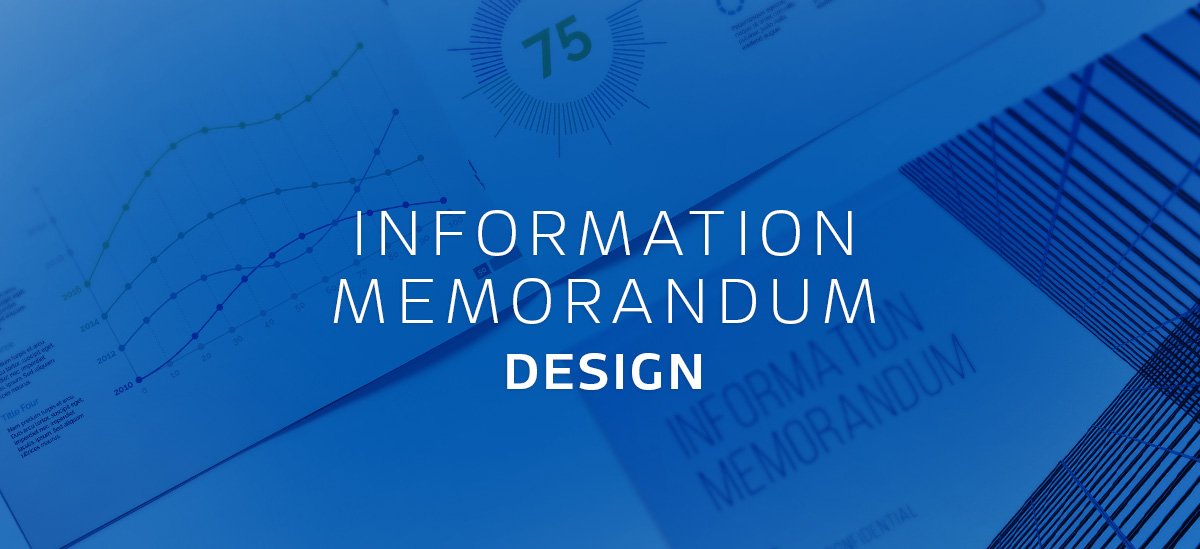 August 2019
When your business is on a mission to attract investment or secure a sale, Information Memorandum design is a crucial part of the process and one worthy of careful attention.
More and more savvy businesses are investing in customised Information Memorandum design solutions to effectively communicate with their target audience and present their proposition with the support of strategic visual devices and layout enhancements.
What's design got to do with drumming up investment?
In a lengthy document like an Information Memorandum, design is what captivates potential investors and holds their interest. Nitty gritty content only goes so far. Clever layout techniques can be employed to draw attention to key information and keep your reader engaged from pages 1-50 and beyond.
Make no mistake – investing in powerful Information Memorandum design can (and often does) improve your chances of raising capital or achieving a great exit sale. As a reflection of your business, you want your Information Memorandum to look the part: professional, polished, solvent, in control.  
Ultimately, the Information Memorandum is a vital marketing document and sales tool – and that's exactly how it should be treated.
Naturally, preparing an Information Memorandum requires the utmost discretion on the part of the creatives involved. You don't want the world at large to get wind of the fact that you're raising money or selling.
When commissioning external suppliers, it's essential to engage an agency you trust and have complete confidence in. After all, you're hiring them to shape your raw material into something investors can get on board with.
This is a meaty document and you want to give it all you've got. If you've never prepared an Information Memorandum before, the first thing you need to know is that it's much more substantial than your company brochure or pitch deck.
An Information Memorandum must include analysis, financials, future projections and detailed explanations as to how you make your money and what you plan to do with the money they give you. With so much detail, it's no wonder your Information Memorandum Design has to do the heavy lifting. Who's going to read it otherwise?

The practical applications of Information Memorandum design
When putting together your Information Memorandum, think about how an investor will digest it and in what circumstances. One thing's for sure: they won't be reading it cover to cover.
In our experience, investors will only refer to it as specific questions occur to them or if they've forgotten something you touched on in your pitch (like your year-on-year profit for 20xx) and need reminding.
Investors should be able to scan the contents page and flip immediately to the section with the answer. When creating a professional Information Memorandum, brevity and clarity are absolutely key. You want punchy, unambiguous, easy-to-read sentences that contain fact after fact after fact.
Essential information your Information Memorandum design will need to address:
Key investment highlights
Management team
Business information
Financials
Opportunities
Legal information (corporate structure, patents and trademarks)
Plans for funding
Given all this important detail, the overall presentation of your Information Memorandum design cannot be underestimated. This is not something you want to knock up in Word or PowerPoint. It requires an extremely high level of visual skill and finesse that only an experienced designer can provide.
– Sketch Corp.