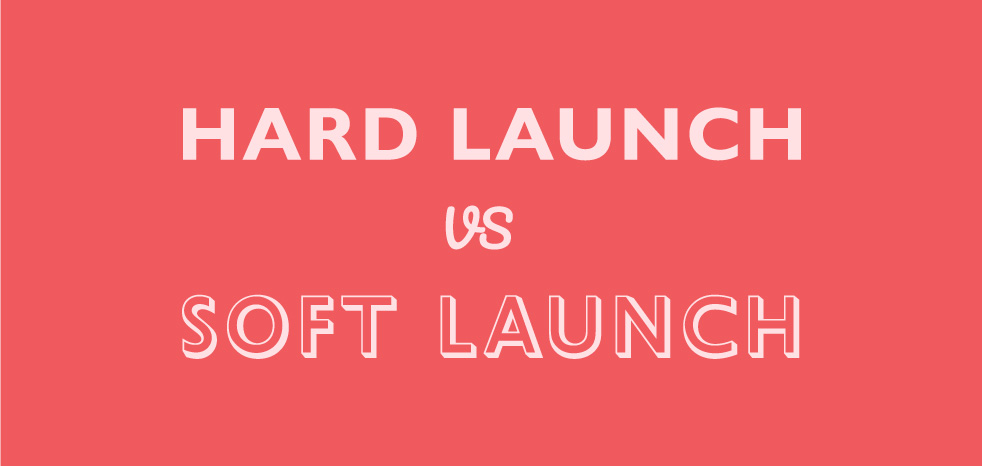 20
Dec, 2019
So you've been working on your business plan, you've developed a strong brand and your website is almost ready. The next thing to consider is how you're going to bring your business to market. Here, we explain the concept of a hard launch vs. a soft launch.
We've been quizzed about this a lot recently by clients who are starting a new business, rebranding or merging with another brand. They want to know the best way to introduce their new venture to market when developing a launch strategy.
Both approaches have their advantages, depending on what your business offers the market, who your clients are and what you're trying to achieve. To help you plan your launch activity, we've developed a list of key considerations for hard launch vs. soft launch.
The art of the soft launch
This is a gradual roll-out that introduces your brand to market quietly. Discretion and subtlety are key. Typically, a soft launch involves rolling out your supporting marketing applications piece by piece – without a great deal of fanfare. For example, your new website will quietly go live when it's ready, not on a specific launch date.
Soft launch vs. hard launch requires no official PR strategy, largely because you don't want to generate publicity or draw mass attention to your new proposition. Typically, this is because you want to 'test' your offering on a limited audience, demographic or geography to assess whether it needs refinement before launching it more widely.
Other scenarios best suited to a soft launch are those 'delicate' business situations where you already have a strong base of clients and customers (perhaps inherited through a parent brand), and there's a risk that creating hype about a new brand may cause confusion or even alienate some people.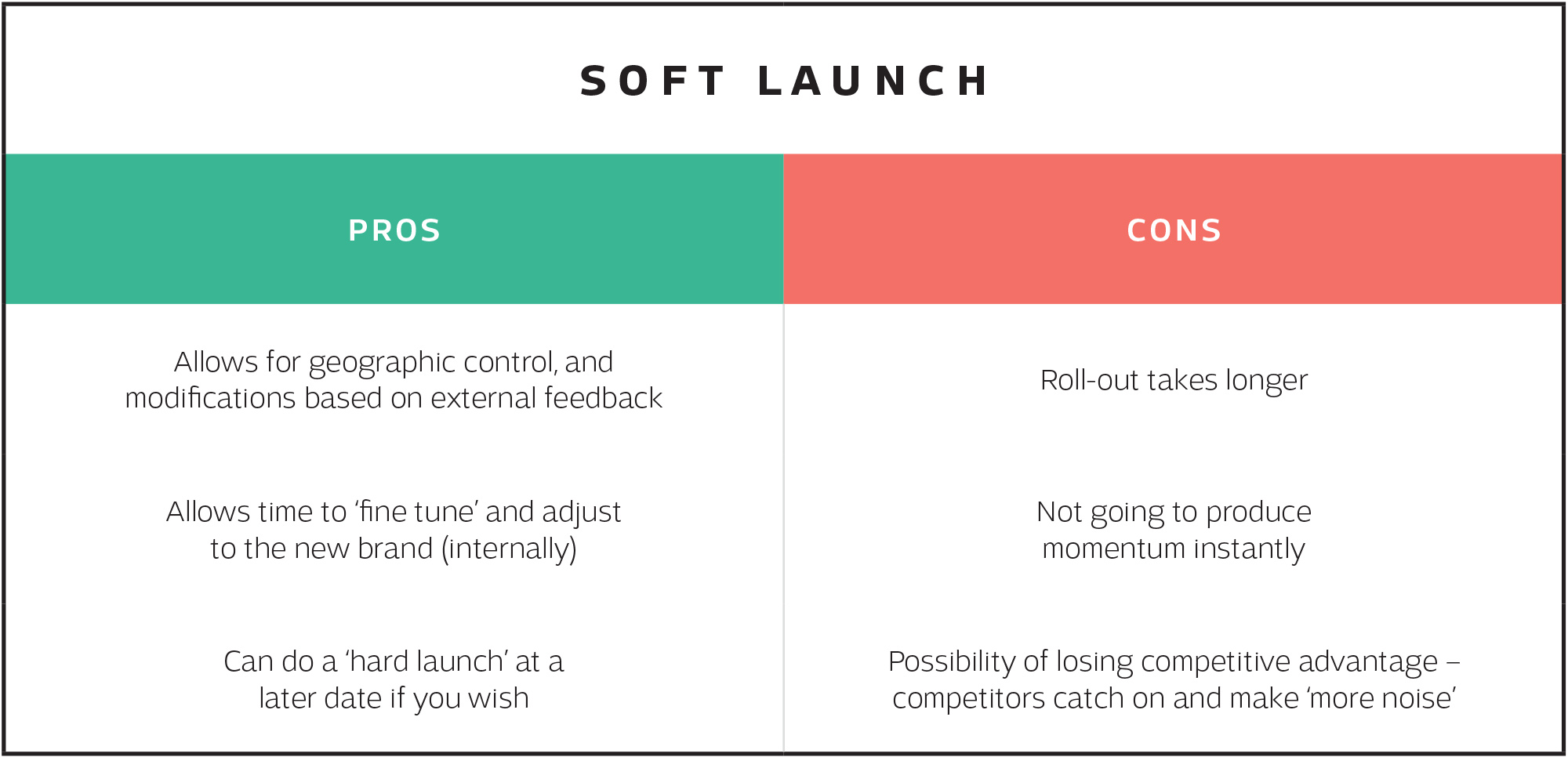 The impact of a hard launch
A hard launch, on the other hand, is where you launch with a bang. You schedule an official launch date well in advance where all marketing material, external communications and sales collateral must be ready to 'go live'.
Activity for a hard launch usually involves drumming up pre-launch interest through PR activity and culminates in a gala launch event.
In terms of hard launch vs soft launch, the goal with this approach is to attract attention and garner widespread brand awareness. You want as many people as possible to know about your new brand and its benefits.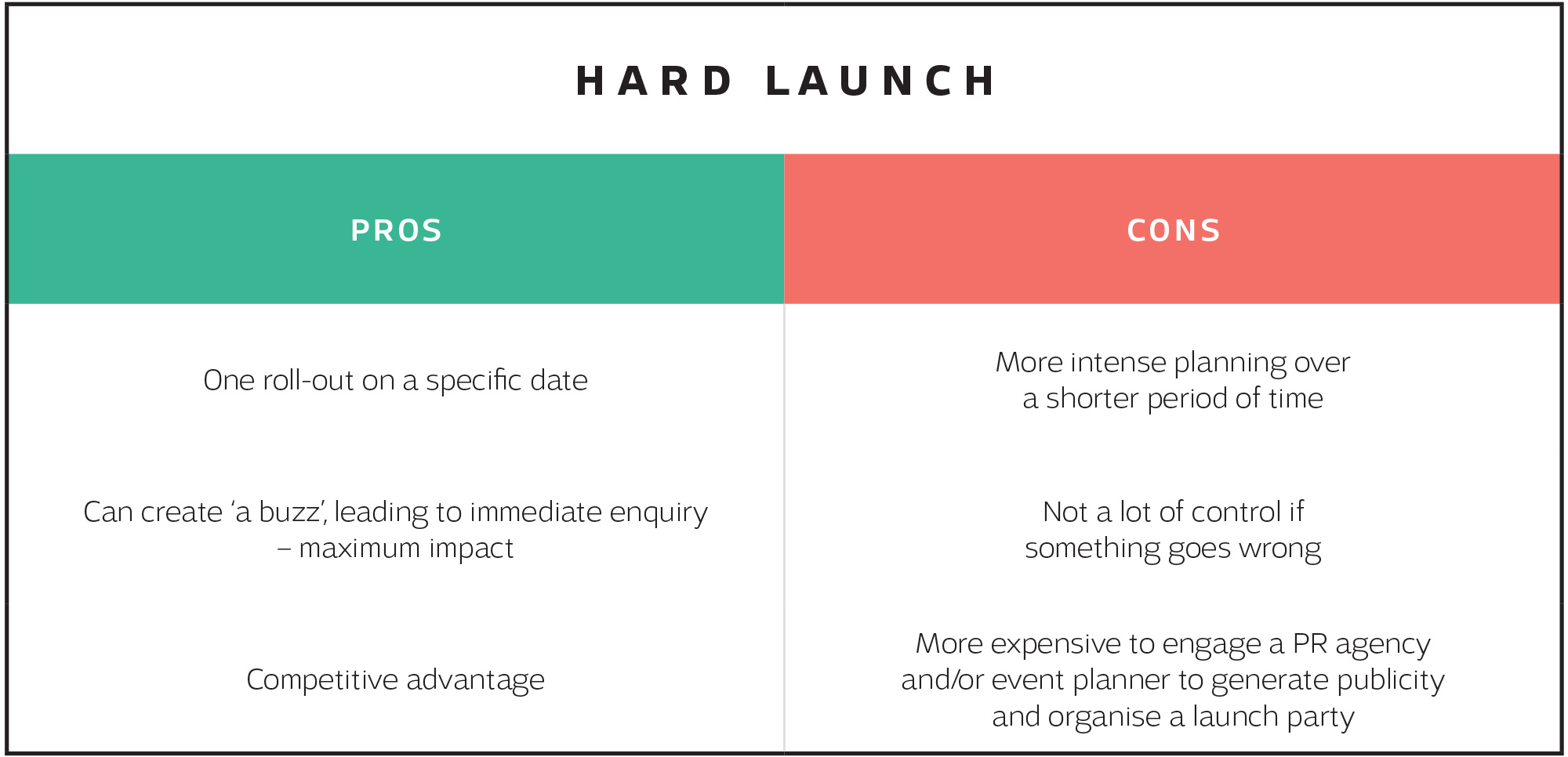 Hard launch vs. soft launch: key considerations
Put some thought into your overall launch objective. Do you want to generate enquiry, acquire new clients, revamp subtly, communicate brand changes to existing clients while reassuring them their service won't change, or give the market a clear understanding of who you are and what you do?
The second thing to consider is allocating your launch budget. Take the time to clearly identify what you're willing to invest in getting the new brand up and running. Is this budget best spent on launch activity in terms of ROI or are there more effective ways of achieving your objective? Investigate the cost of launch activity vs the cost of targeted advertising and the likely performance of each.
Another point to consider is your internal resources and skill sets. If you decide to host a launch party, who will manage this internally? Are they equipped to do this to the standard it needs to be, or do you need to outsource some aspects of your launch to PR, events or marketing professionals?
Communicating your 'new brand' to existing clients is a weighty consideration that requires some finesse. Is there any risk some your current clients won't 'buy in' to the new brand? Decide on the best way to mitigate this risk, which may be through reassurance issued via strategic communications.
Look at how many existing clients you have in your database and the kind of relationship you have with them to gauge what's appropriate. Decide whether the most effective way of communicating changes is via EDM or perhaps a personal invitation to a launch event.
Then there's the matter of what will happen after the launch. A post-launch lead generation marketing strategy may be in order to capitalise on your hard work, in which case you'll need to assess whether your follow-up marketing strategy complements your launch activity in terms of messaging and fulfilling your brand promise.
It can help to seek an objective opinion when introducing a new business to market. As always, if you have any questions, concerns or collateral requirements for an upcoming launch, Sketch Corp. can assist. Call our team on (07) 3369 6100.