Code it and they will come
Keep hearing about digital marketing and how you should be doing it… but not quite sure where to start (or, ahem, what it is)? When done right, this digital marketing caper works wonders to increase your visibility online, drive the right kind of traffic to your website, and help you engage with your customers in ways that pave the way for repeat business. In a world where data is king and every internet user leaves a useful trail of information in their wake, digital marketing is absolutely worth looking at. Our boutique creative agency can sort you out with a strategy and get you marketing in the digital space like a pro, leveraging every available avenue to the advantage of your business.
Measurable, tangible, immediate
Basically, having a digital marketing strategy in place is a brilliant way to maximise the return on your online investment and reach your target market through a range of touchpoints. Unlike marketing activity of days gone by, where a lot of guess-timatrics was involved and you couldn't tell whether it worked or not for months, the beauty of digital marketing is that you can measure its performance to the letter and in real time.
Thanks to stats and Google Analytics, you can find out how many people read your EDM at what time and what percentage of these clicked on the link. How many people saw your banner re-marketing ad on their internet travels and clicked on it. Who watched your video on Instagram and found their way to you via the link in the bio. Amazing when you think about it and full of possibilities for businesses like yours. As a full-service creative agency, Sketch Corp. has all your digital needs covered.
A straightforward approach to digital
Sketch Corp's digital marketing team works closely with clients to develop and integrate digital marketing activities that will get you found online, encourage visitors to spend quality time on your site and steward your relationship with them so they keep coming back. That's just the kind of creative agency we are. Transparency is our middle name, so we explain everything to you about how your proposed digital marketing strategy will work and what it will do for your business. We'll present you with the stats on how a campaign is performing and let you know the path visitors follow to get to you and whether it ends in an enquiry or business transaction. Some digital marketing services our Brisbane creative agency specialises in:

Digital design
In the digital marketing world, spot-on design is essential to any satisfying user experience that yields results. This calls for seamless graphic elements, balanced composition and clear, legible typefaces that reflect the brand identity, no matter what the context. The Sketch digital design team is made up of experienced designers highly trained in digital techniques as they evolve.

Email marketing
Got email addresses? Keep your customers updated about your business's latest news, offers and content they may be interested in via email. Talk to Sketch Corp. about what you want to communicate via email and leave the rest to us, your friendly creative agency.

Content and copywriting
If you're not sure what to say or how to put it into words, we can help. Sketch Corp. can work with you to shape your content and word your digital marketing message in a way that resonates with your target audience online. As your creative agency, we can advise you on content strategy for your blogs and emails, copywrite the content in its entirety and proofread it to perfection. All you have to do is approve.

Social media
Sketch Corp's social media whizzes can create a content schedule for your Facebook, LinkedIn, Instagram and Pinterest interactions to maximise engagement and support your digital marketing strategy.

Blogs
A great way to join the digital conversation and promote your visibility online is by posting regular blogs and directing your customers to them via email or social media. Sound time-consuming? Sketch Corp. can work with you to decide on topics and our experienced copywriters can ghost-write your blogs for you.

Google AdWords
Our creative agency can advise you on how to advertise locally and nationally to attract customers in need of what you're selling using Google AdWords.

Google Analytics
We can also track your web traffic and source the data you need to inform your digital marketing decisions using Google Analytics.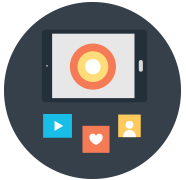 Want to talk to a digital agency in Brisbane?
Phone Sketch Corp. on (07) 3369 6100 to book a consultation or submit an enquiry below.