Marketing by design
Sometimes what's on the outside really does matter! If your promo material, corporate documents, brochures and presentations are riddled with typos, pixelated images or simply don't 'look right,' your business won't be perceived as 'being right.' Don't send the message that you're substandard with graphic design that's not up to scratch.
We heart graphic design
Got a print ad, digital ad or flyer in mind? Our graphic designers can't get enough of those! Or perhaps a glossy brochure or catalogue is more your style? We can help you out with those too. Maybe you want to do a clever direct mail execution and need a) some creative input and b) graphic designers to bring it to life. Done and done. If you're from the top end of town, you may require elegant stationery design, annual reports, investor presentations, signage, menus or conference material. You might even be thinking HUGE with a billboard or banner. Whatever your pipe dream, we're the creative agency who loves design in all forms. Our graphic designers in Brisbane love a challenge and aim to please with innovative graphic design solutions.
Designers that define
The Sketch Corp. graphic design team are passionate creatives at the top of their game. Between them, Sketch Corp.'s experienced art director and graphic designers bring to our creative agency extensive experience across traditional and digital design applications. Keeping on top of the latest and greatest design trends and technology as almost a competitive sport in the Sketch Corp. graphic design hub.
Our graphic designers consistently come up with fresh ideas and deliver clean, bright, uncluttered graphic design solutions that achieve cut-through and speak to the professionalism of your business. Along with technical proficiency and attention to detail, our Brisbane graphic design team are true artistes who understand the rules of artistic composition (did you know odd numbers look better, for example?), symbolism and the fine balance between form and function.
The creative process, Sketch Corp. style
Another thing we heart at Sketch Corp. is process. Our Brisbane graphic designers are sticklers for it to get the job done brilliantly and in a timely fashion. For clarity and quick turnaround, we take a three-phase approach for each new graphic design commission.

Unpack the problem
First things first, our Brisbane graphic design team unpacks the brief, sizes up the scope and nuts out a suite of options for how best to communicate the message visually. Questions are raised: What's the flavour of the company? Who's the target audience? What colours, fonts, pictures will speak to them? What emotions do we want them to feel? Can data be conveyed graphically? Every new brief is like scattered pieces of a puzzle for our graphic designers, who work steadily until a fully formed solution emerges.

Evoke the solution
Our graphic designers in Brisbane get a thrill from teasing out a complex brief, deciding on the best solution from a shortlist and presenting the piece de resistance to stakeholders. Sketch Corp. demonstrates in detail the rationale for the piece: how the finished product accomplishes the goal, reaches the target market, exceeds expectations and enhances the brand.

Show what's possible and ignite
The power of outstanding graphic design is to make people fall in love with their own brand all over again – even if they're the owner of the company! In our creative agency, we've seen it happen too many times to count. A well-designed poster, 'with compliments' slip or desk calendar is all it takes. A thrilled client who can't wait to get the finished product to market… that's a great day at work in our book.
Designing around town
Our boutique creative agency provides a full range of graphic design services for small- to- medium-sized businesses throughout Brisbane, the Gold Coast and the Sunshine Coast. Our talented graphic designers thrive on variety, and our esteemed stable of clients hail from the property, tourism, accountancy, recruitment, SEO, construction, personal services and non-profit sectors, to name a few.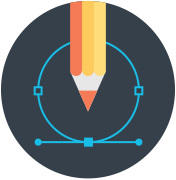 Discover what graphic design can do for your business
Phone Sketch Corp. on (07) 3369 6100 to book a consultation or submit an enquiry below.